Welcome from the Canadian Lymphedema Framework
We invite you to join us in Toronto on November 3-4 for the 2023 National Lymphedema Conference at the Toronto Airport Marriott Hotel. Attend the conference and stay a few extra days to enjoy time in Canada's largest city on the shore of beautiful Lake Ontario. Toronto is a vibrant, multicultural city with top attractions, superb shopping, and diverse cultural, culinary, and entertainment experiences. We look forward to seeing you in Toronto in November.
Bonnie Baker, with Dr. David Keast and Dr. Anna Towers
Organizing Committee Chair and Scientific Committee Co-Chairs
---
This 2-day conference offers content for both professionals and patients and is for anyone living or working with lymphedema or studying or researching in areas related to lymphedema.
Our Organizing and Scientific Committees have developed a rich program full of speakers, sessions, and workshops that you won't want to miss. You will also have the chance to learn about all the latest products and services for managing lymphedema and related conditions in our extensive Exhibit Hall and speak directly with the experts from the companies who offer them.
REGISTER NOW

Explore the program and our speakers and presenters on our conference site here
Click here to sign-up for email notifications with news and updates.
Meet our Sponsors and Exhibitors
All
All Partners
Diamond Partner
Platinum Partners
Gold Partners
Silver Partners
Bronze Partners
Advertisers
Partner Organizations
Exhibitors
Manufacturers & Wholesalers
Retailers
Support, Networking, Forums
Compression Garments
Bandaging Supplies
Wound Care Products
Daytime Garments
Nighttime Garments
Compression Wraps
Post-Mastectomy Products
Pumps and Equipment
Accessories
Skin Care Products
Schools and Certifications
Adaptive Clothing and Shoes
Nutrition
Exercise, Fitness
Treatment Facilities
All
All Partners
Diamond Partner
Platinum Partners
Gold Partners
Silver Partners
Bronze Partners
Advertisers
Partner Organizations
Exhibitors
Manufacturers & Wholesalers
Retailers
Support, Networking, Forums
Compression Garments
Bandaging Supplies
Wound Care Products
Daytime Garments
Nighttime Garments
Compression Wraps
Post-Mastectomy Products
Pumps and Equipment
Accessories
Skin Care Products
Schools and Certifications
Adaptive Clothing and Shoes
Nutrition
Exercise, Fitness
Treatment Facilities
All
All Partners
Diamond Partner
Platinum Partners
Gold Partners
Silver Partners
Bronze Partners
Advertisers
Partner Organizations
Exhibitors
Manufacturers & Wholesalers
Retailers
Support, Networking, Forums
Compression Garments
Bandaging Supplies
Wound Care Products
Daytime Garments
Nighttime Garments
Compression Wraps
Post-Mastectomy Products
Pumps and Equipment
Accessories
Skin Care Products
Schools and Certifications
Adaptive Clothing and Shoes
Nutrition
Exercise, Fitness
Treatment Facilities
All
All Partners
Diamond Partner
Platinum Partners
Gold Partners
Silver Partners
Bronze Partners
Advertisers
Partner Organizations
Exhibitors
Manufacturers & Wholesalers
Retailers
Support, Networking, Forums
Compression Garments
Bandaging Supplies
Wound Care Products
Daytime Garments
Nighttime Garments
Compression Wraps
Post-Mastectomy Products
Pumps and Equipment
Accessories
Skin Care Products
Schools and Certifications
Adaptive Clothing and Shoes
Nutrition
Exercise, Fitness
Treatment Facilities
All
All Partners
Diamond Partner
Platinum Partners
Gold Partners
Silver Partners
Bronze Partners
Advertisers
Partner Organizations
Exhibitors
Manufacturers & Wholesalers
Retailers
Support, Networking, Forums
Compression Garments
Bandaging Supplies
Wound Care Products
Daytime Garments
Nighttime Garments
Compression Wraps
Post-Mastectomy Products
Pumps and Equipment
Accessories
Skin Care Products
Schools and Certifications
Adaptive Clothing and Shoes
Nutrition
Exercise, Fitness
Treatment Facilities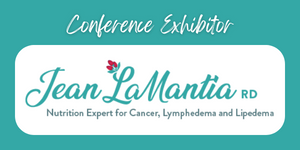 Jean LaMantia, RD
Exhibitor
All
All Partners
Diamond Partner
Platinum Partners
Gold Partners
Silver Partners
Bronze Partners
Advertisers
Partner Organizations
Exhibitors
Manufacturers & Wholesalers
Retailers
Support, Networking, Forums
Compression Garments
Bandaging Supplies
Wound Care Products
Daytime Garments
Nighttime Garments
Compression Wraps
Post-Mastectomy Products
Pumps and Equipment
Accessories
Skin Care Products
Schools and Certifications
Adaptive Clothing and Shoes
Nutrition
Exercise, Fitness
Treatment Facilities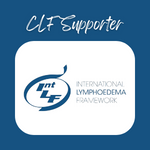 International Lymphoedema Framework
Supporter
Australasian Lymphology Association
Supporter
British Lymphology Society
Supporter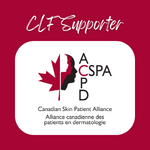 Canadian Skin Patient Alliance
Supporter
Melanoma Canada
Supporter
Lymphatic Education & Research Network
Supporter